Retown to Develop Sabre Woods in Hickory Hills, Illinois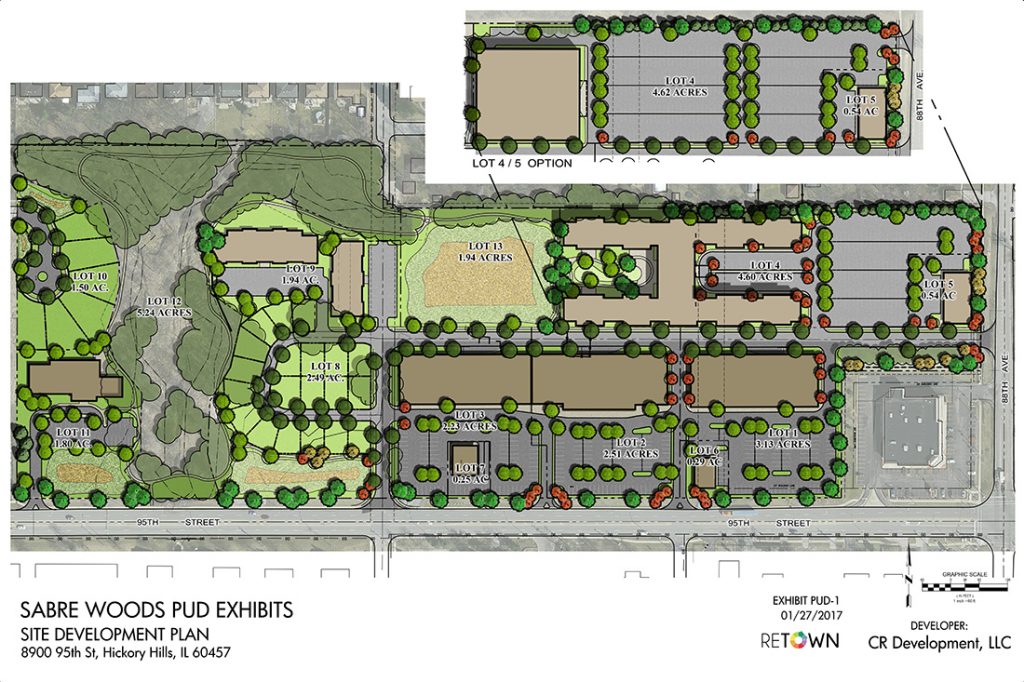 The Sabre Room was an iconic banquet hall that hosted countless weddings, parties and other events over a period of some 67 years. A number of legendary entertainers appeared at the venue, including Johnny Carson, Liza Minnelli, Dean Martin, Liberace, and the "Chairman of the Board" Frank Sinatra. During the summer of 2016, the family that owned the Sabre Room decided to close the doors for good, and the 30 acre site became available for development. Retown saw enormous potential there, and we are now members of a development team that is working on the Sabre Woods land development project. The name was chosen to honor the history of the site and allow it to live on in a different form that will benefit the community in multiple ways.
Retown President Jim Louthen explained the development at a public hearing: "We're here to look forward. We made a decision to develop the 30-acre site in a comprehensive way, rather than hodgepodge. We developed this master plan with three primary components."
Sabre Woods Senior Village will be one the components. It will be comprised of up to 84 senior apartments, over 100 assisted living spaces, and 20 single-family homes. This will be sophisticated senior living at its best, and memory care will be addressed. Sabre Woods will also include a retail component, the Shops of Sabre Woods, and developers will be very discerning with regard to the exact businesses that will be the best fit. It has been suggested that the right big-box store could be the ideal centerpiece, but there are many possibilities on the table.
The third piece is a very important one. Retown firmly believes in giving something back to the community as a whole, so the other part of the Sabre Woods project is the civic component. The northwest corner of the property has been set aside as public parkland, and a civic building of some kind could be constructed as well.
Jim Louthen summed it nicely when he said, "We think that it is economically feasible, it will generate jobs, it is marketable, and it fits into the fabric and goals of Hickory Hills."