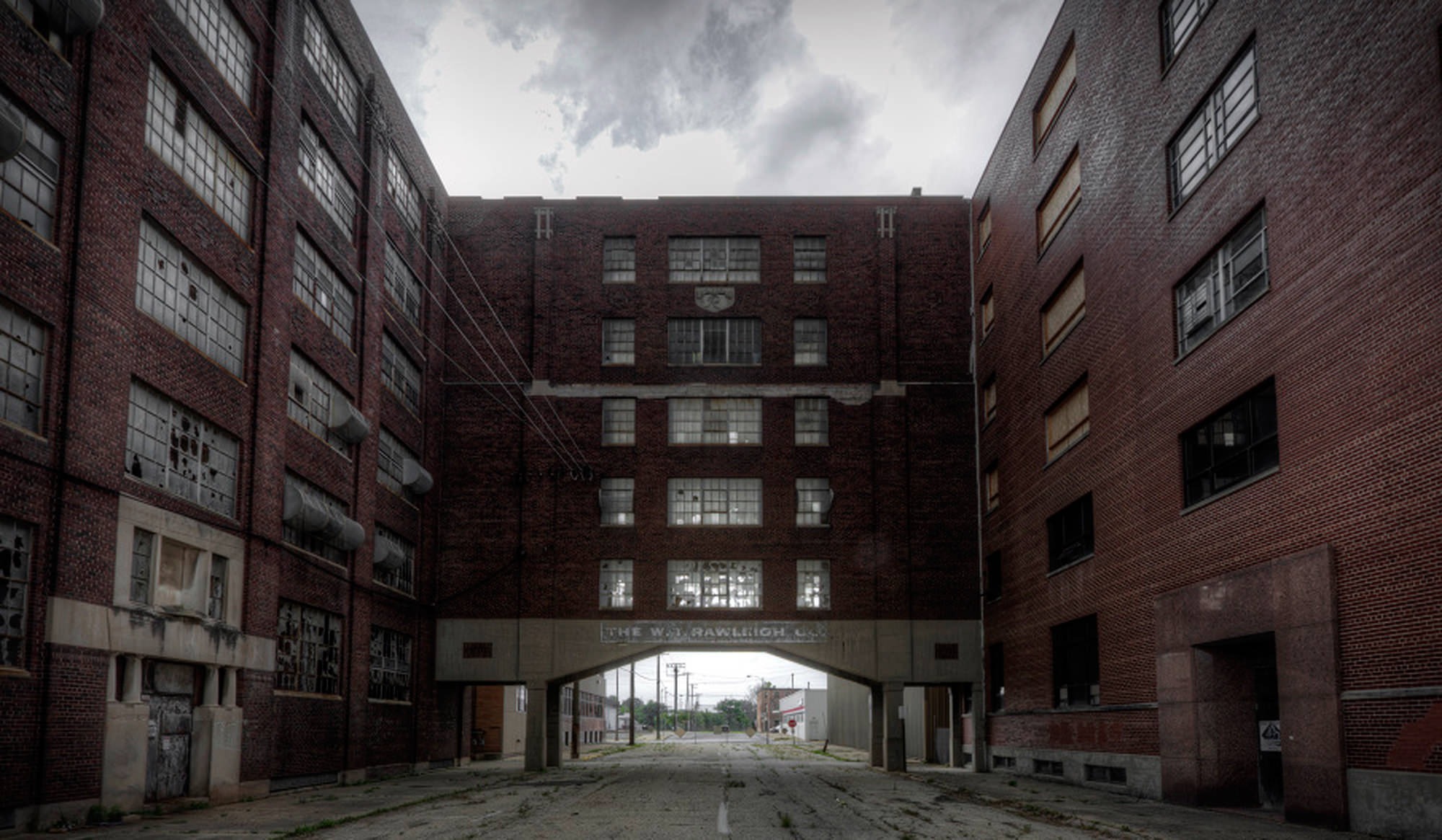 Photo by Monk One.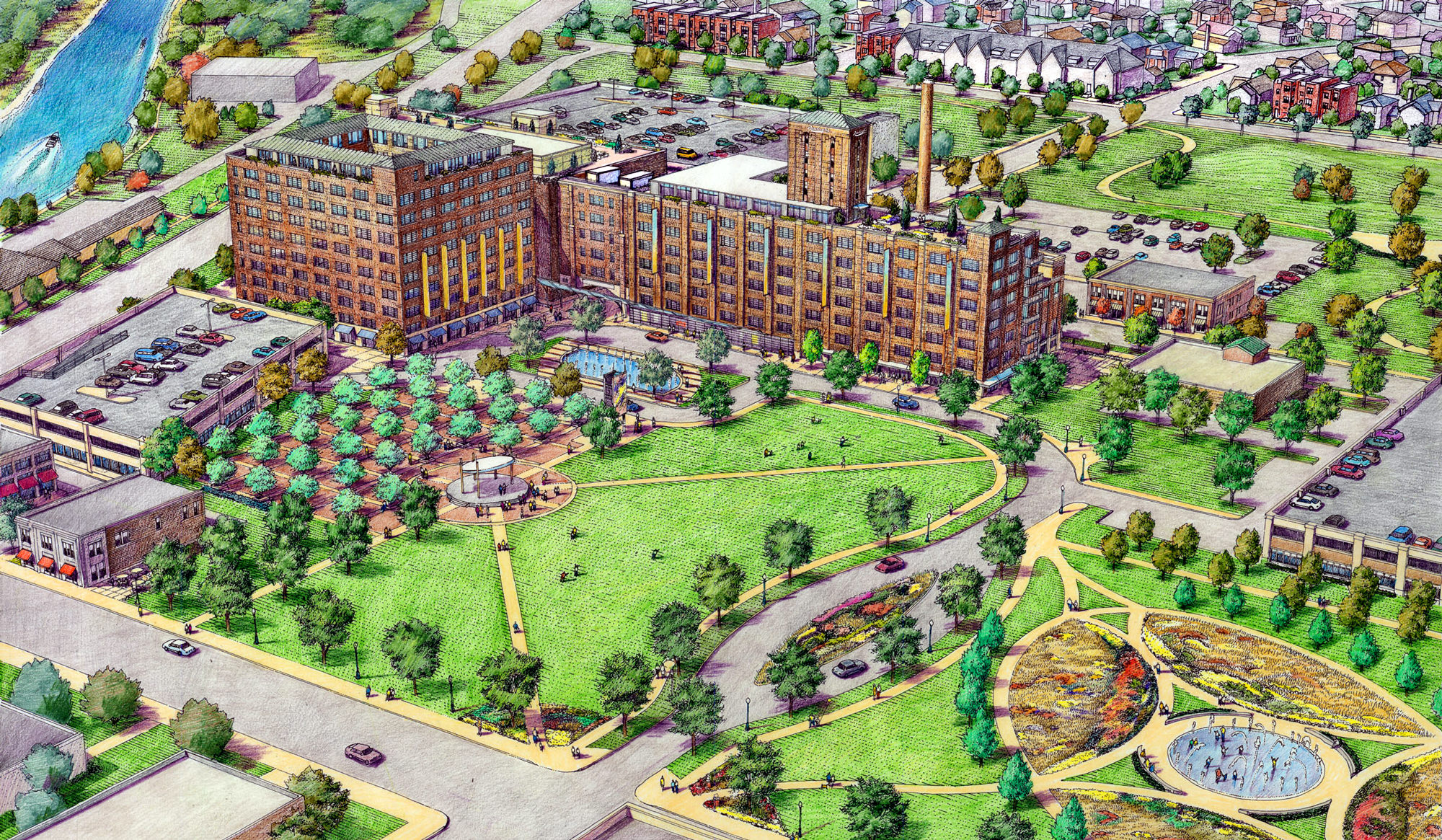 ReTown President and Managing Director Jim Louthen is proud to announce redevelopment plans for the W.T. Rawleigh Building. Located in the historic hub of the Freeport, Illinois, manufacturing area, the abandoned 500,000 square-foot facility was built between the years of 1912 and 1926. "We have developed a master plan for a new lifestyle center that includes residential lofts, a produce market, and professional offices," Mr. Louthen says. "The development program also contemplated the headquarters for Freeport Hospital Network, the City's largest employer and medical provider. The master plan also recommended the construction of a new civic park and structured parking," Mr. Louthen adds.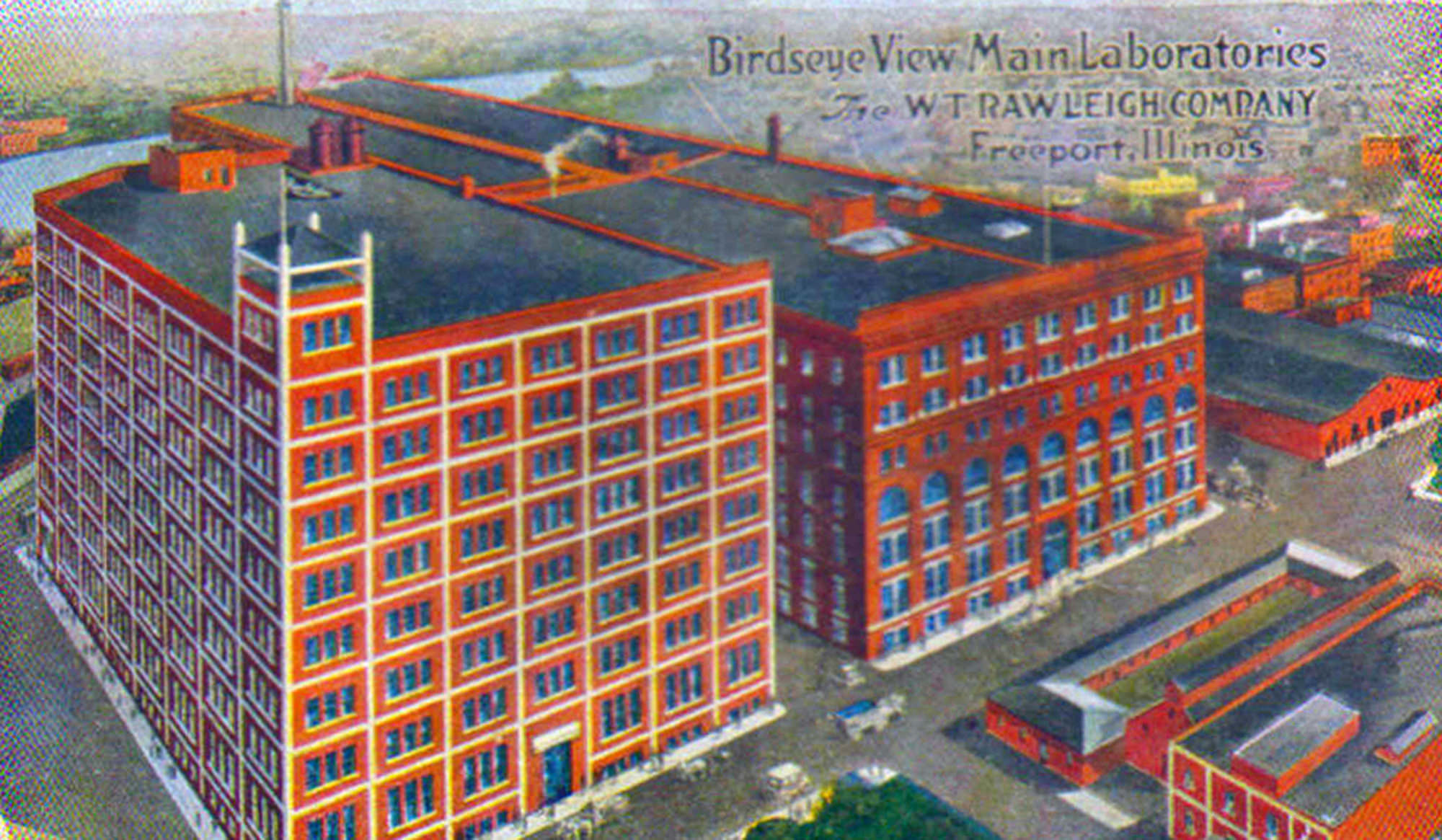 Rawleigh's Headquarters in Freeport, IL, 1928. (Many historical facts and images featured are from the amazing blog, Collecting Vintage Compacts.)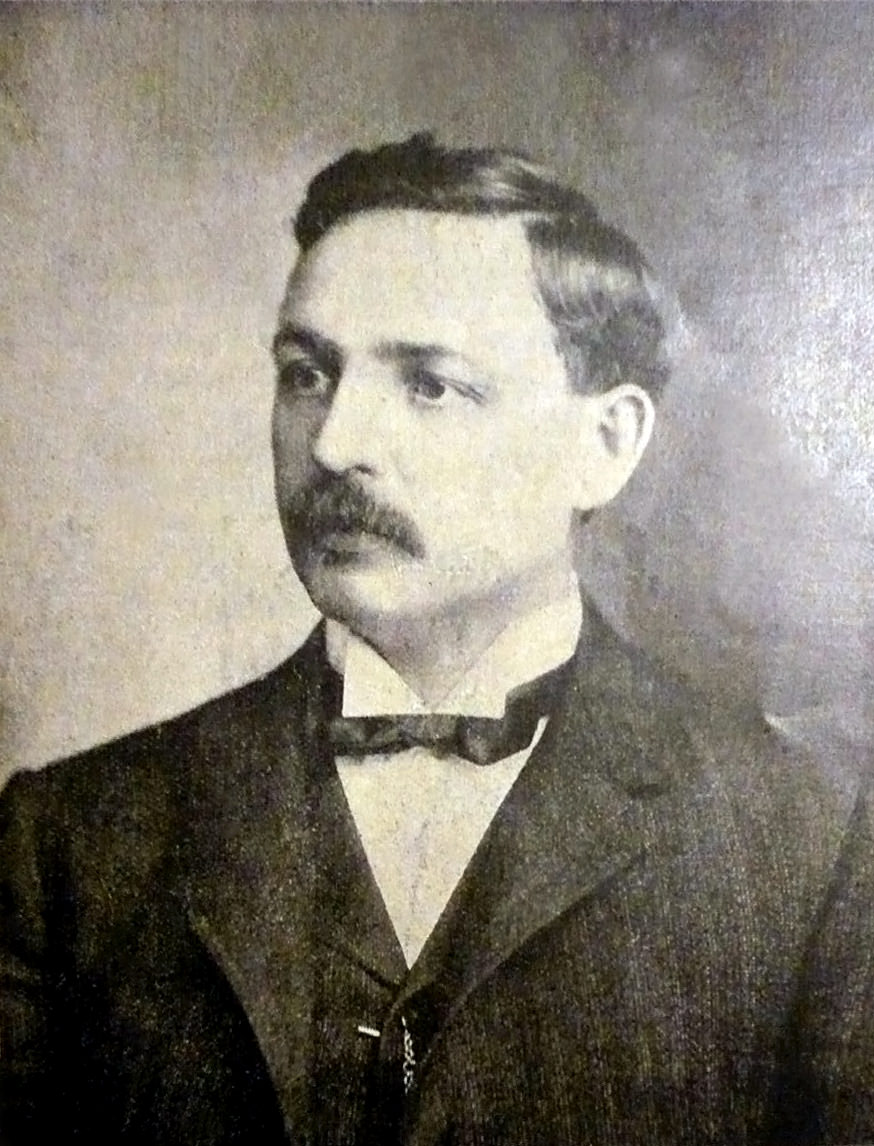 William Thomas Rawleigh began his independent sales career in 1889 at the young age of 18. With only $15, a borrowed horse, a mortgaged buggy, and four types of "Good Health Products," he set out determined to become a successful businessman.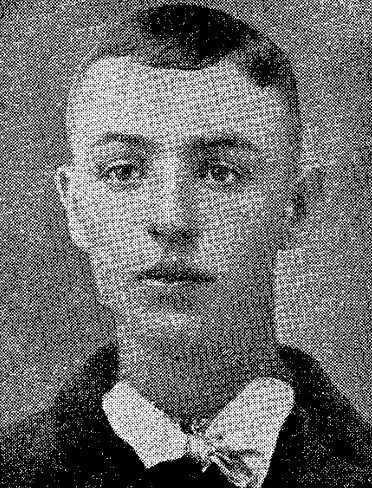 Rawleigh was born on a farm, near Mineral Point, Wisconsin, on December 3, 1870. His first notable achievement was at the age of fifteen when, reportedly, he sold ink to his schoolmates. What was notable was that he not only made the ink himself but also bottled and labeled it. He named it Rawleigh's Mineraline Ink, which identified himself as the manufacturer and also where he came from — Mineral Point. Rawleigh secured a large number of customers with his dependable service, honest methods, and free trials. He would leave products on "time and trial" knowing that the products would sell themselves. The company sold sewing machine oil, cough syrup, mustard, chewing gum and hog mixture, among many other products, and also came to sell cosmetics.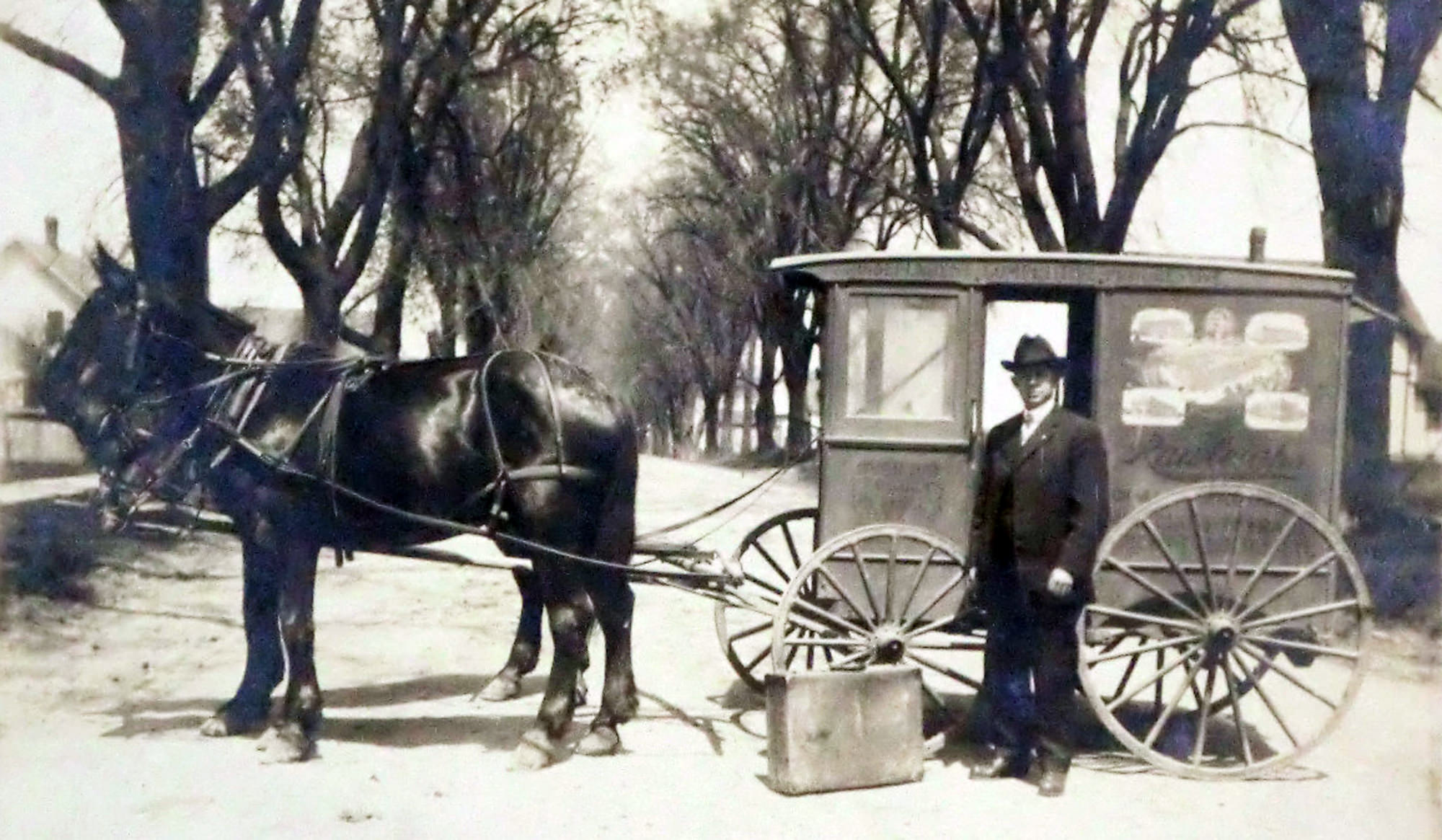 The Rawleigh Men and their horse (or mule)-drawn wagons were common sights throughout rural America.
The demand for his products was such that he established premises in Freeport, IL to both make and store goods for sale. As early as 1896, just after he had incorporated, he trademarked his own name "Rawleigh's." By the start of World War I there were almost 1,000 Rawleigh dealers, and factories in Memphis,TN, Chester, PA, Oakland, CA, and two branches in Canada, based in Winnipeg and Toronto.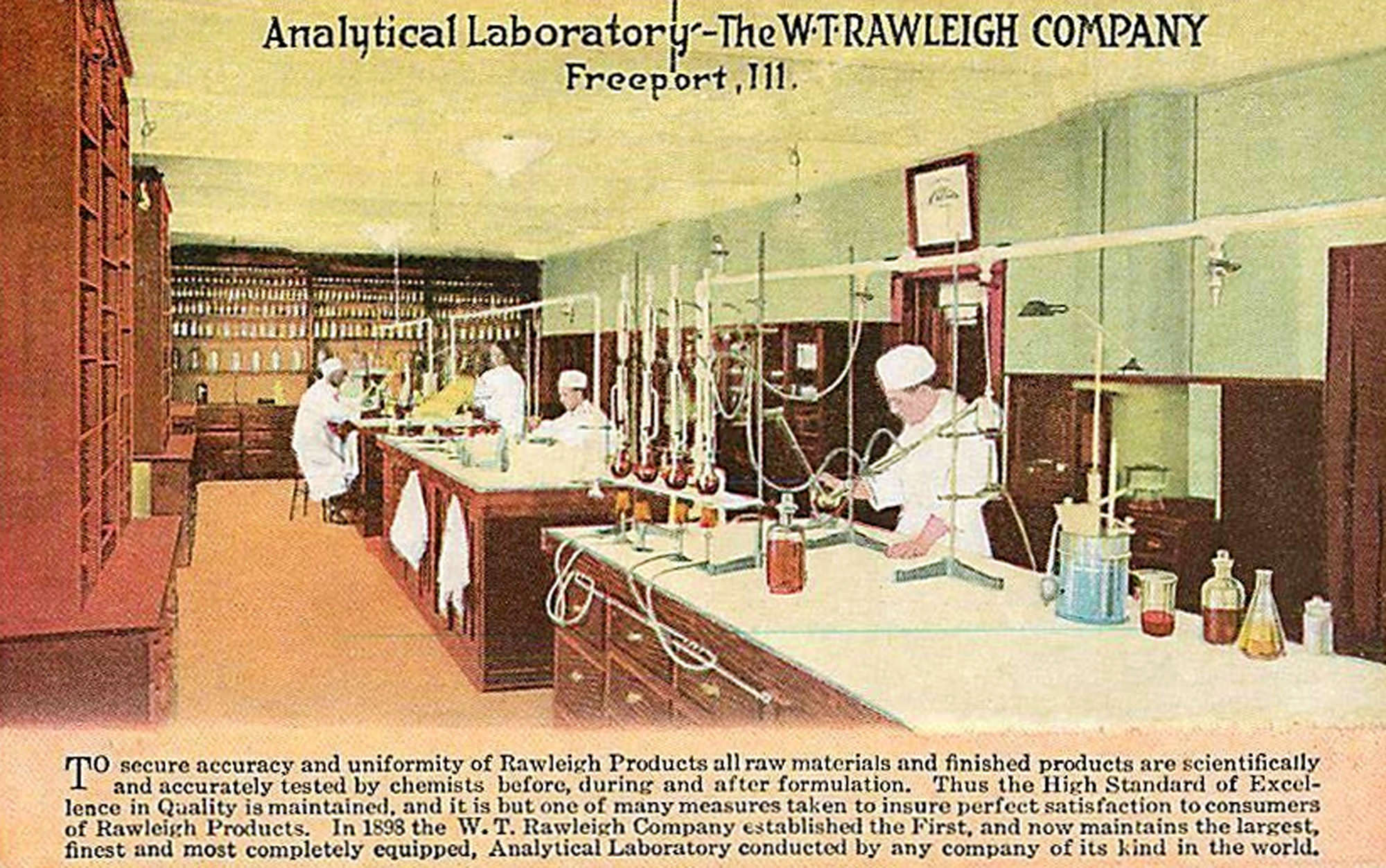 A publicity postcard for Rawleigh's Laboratory, circa mid 1920s.
Rawleigh focused on manufacturing medicinal products and non-medicinal products that had health-promoting qualities. The importance of scientifically tested — and therefore healthy — products was a hallmark of the Rawleigh's brand, together with an approach of "try before you buy." He was among the first manufacturers to offer a free trial and guarantee on all of his products.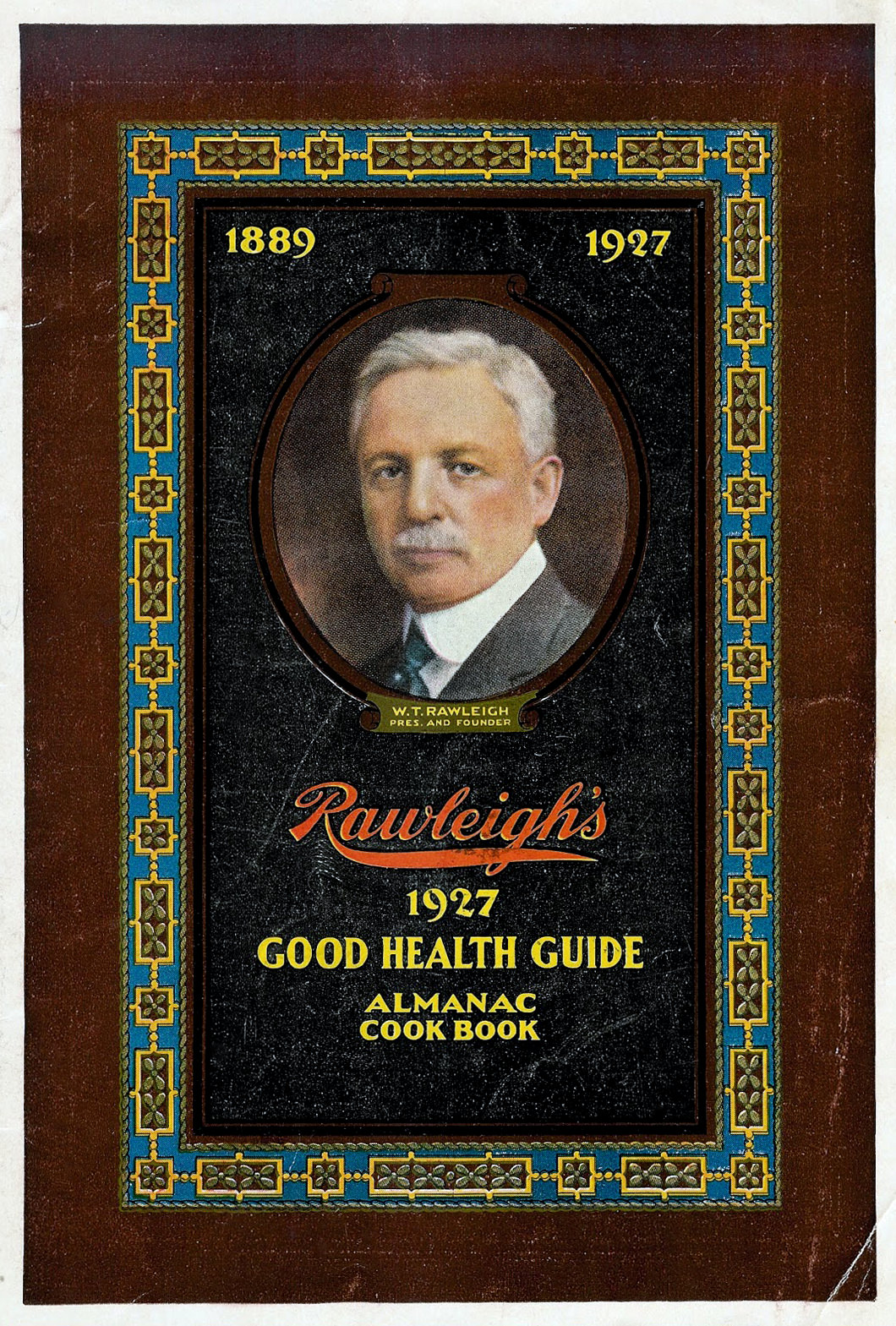 These Good Health Guides were produced every year.
Advertising, too, played a big part. As early as 1892 Rawleigh put together a booklet explaining his products and distributed it widely. This booklet was to be the forerunner of the famous Rawleigh Good Health Guide, Almanac and Cookbook. It was a guide for the whole family – men, women and children and the range of Rawleigh products accommodated the different needs of both sexes.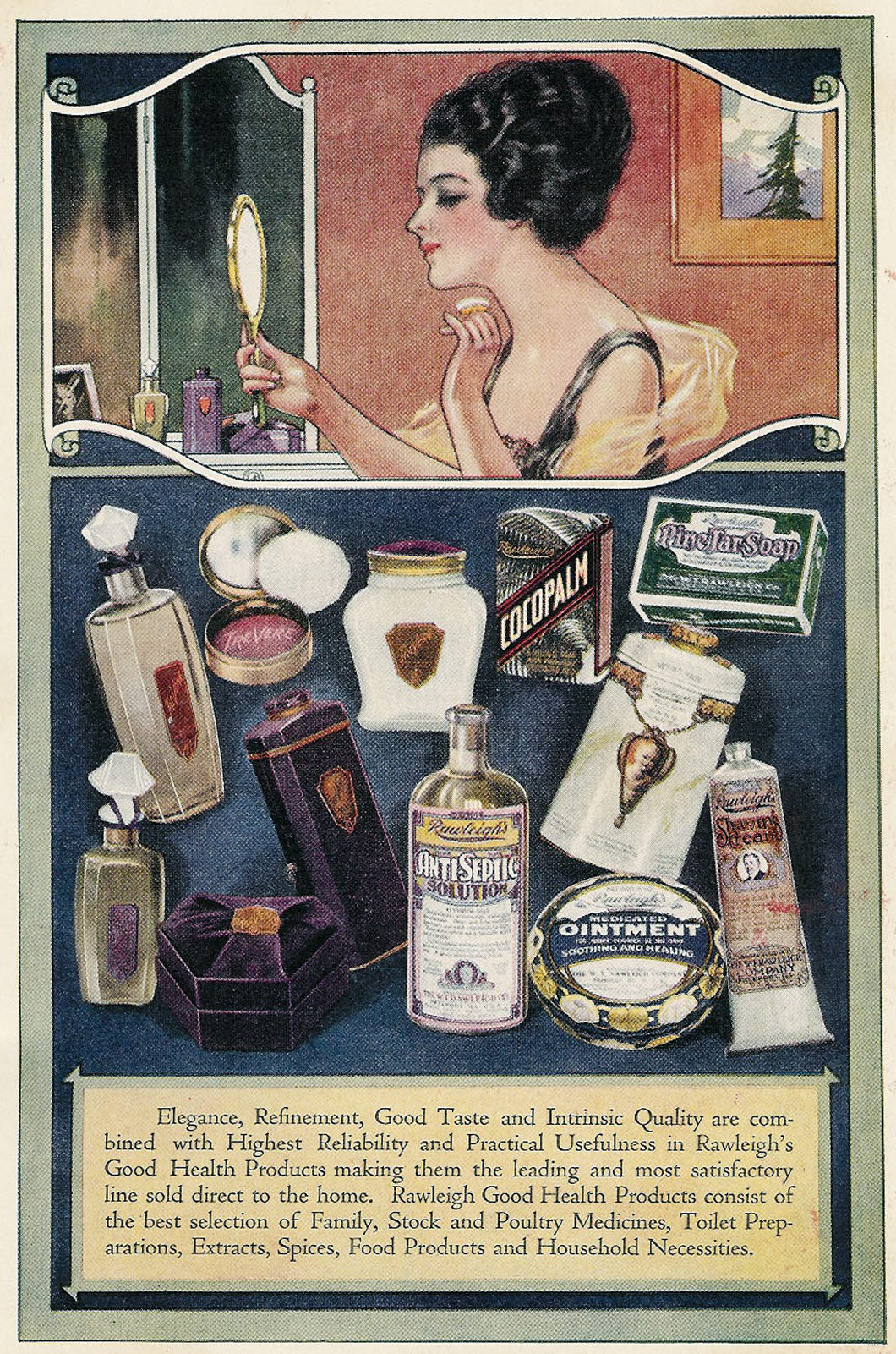 The 1923 Rawleigh's Good Food Guide illustrating the new TreVere line.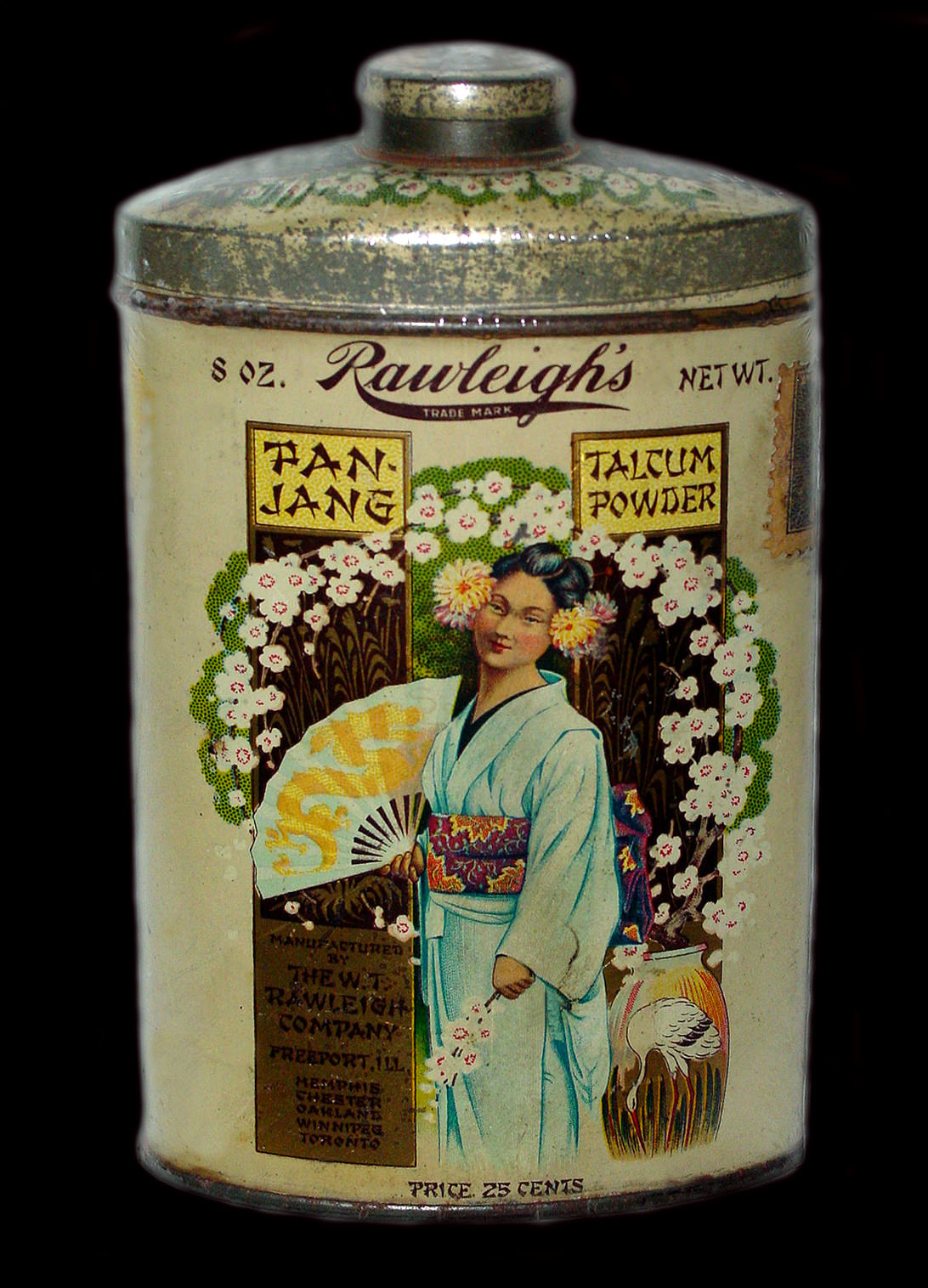 A Rawleigh's talcum powder product called Fan Jang, probably from the 1920s.
Rawleigh's expansion continued with factories in Australia in 1928 and New Zealand in 1931. He also established warehouses in Zanzibar, Madagascar, and Sumatra, where raw materials such as vanilla, cloves, pepper, ylang-ylang, and oil of geranium were assembled and shipped to his factories. Rawleigh personally visited most countries where he sourced raw materials, including The Dutch East Indies (now Indonesia), The Straits Settlement (now Singapore), Japan and China.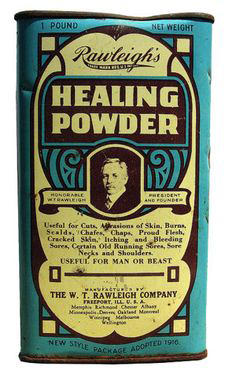 Many of Rawleigh's products are popular collectors' items on Ebay.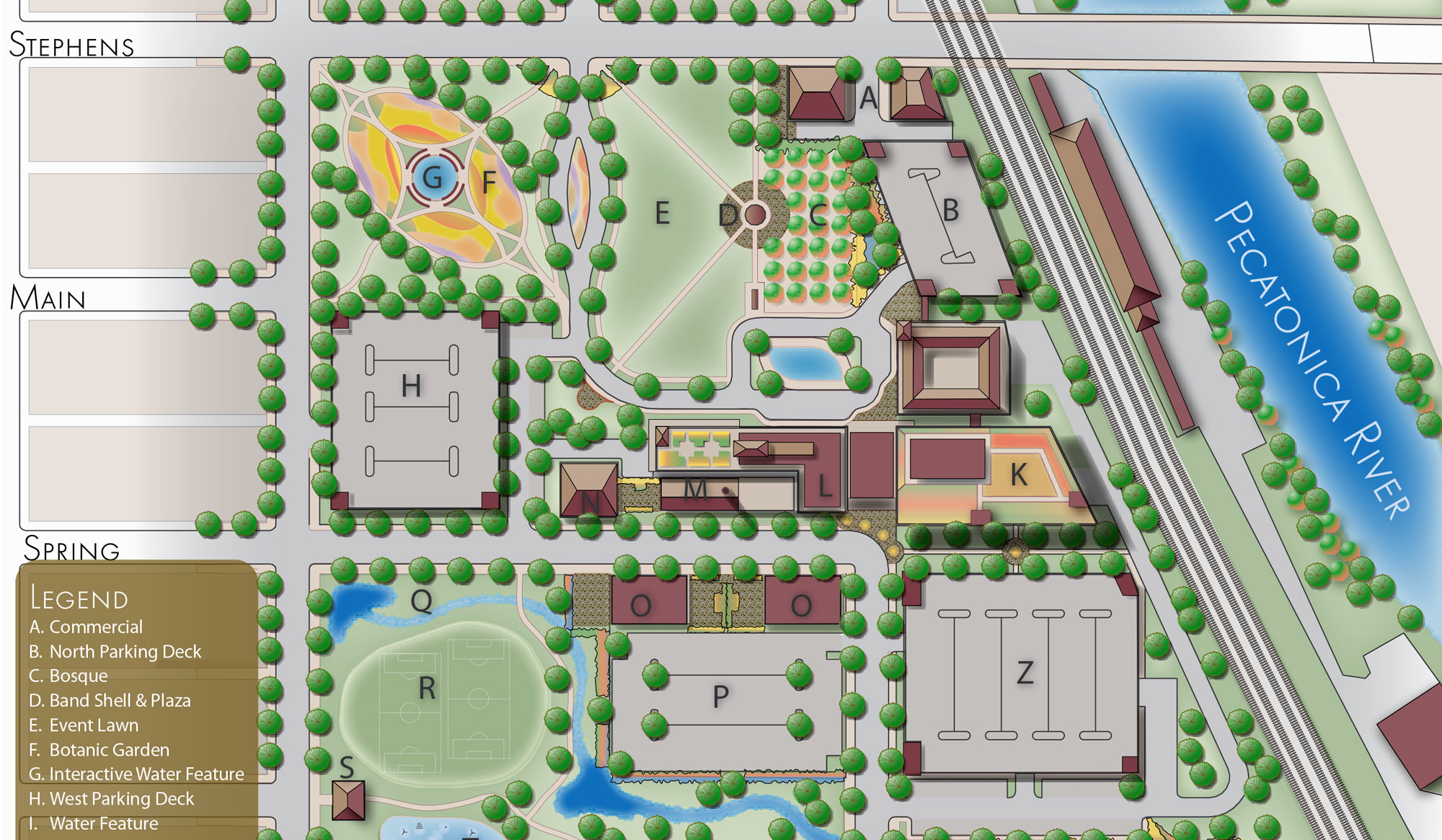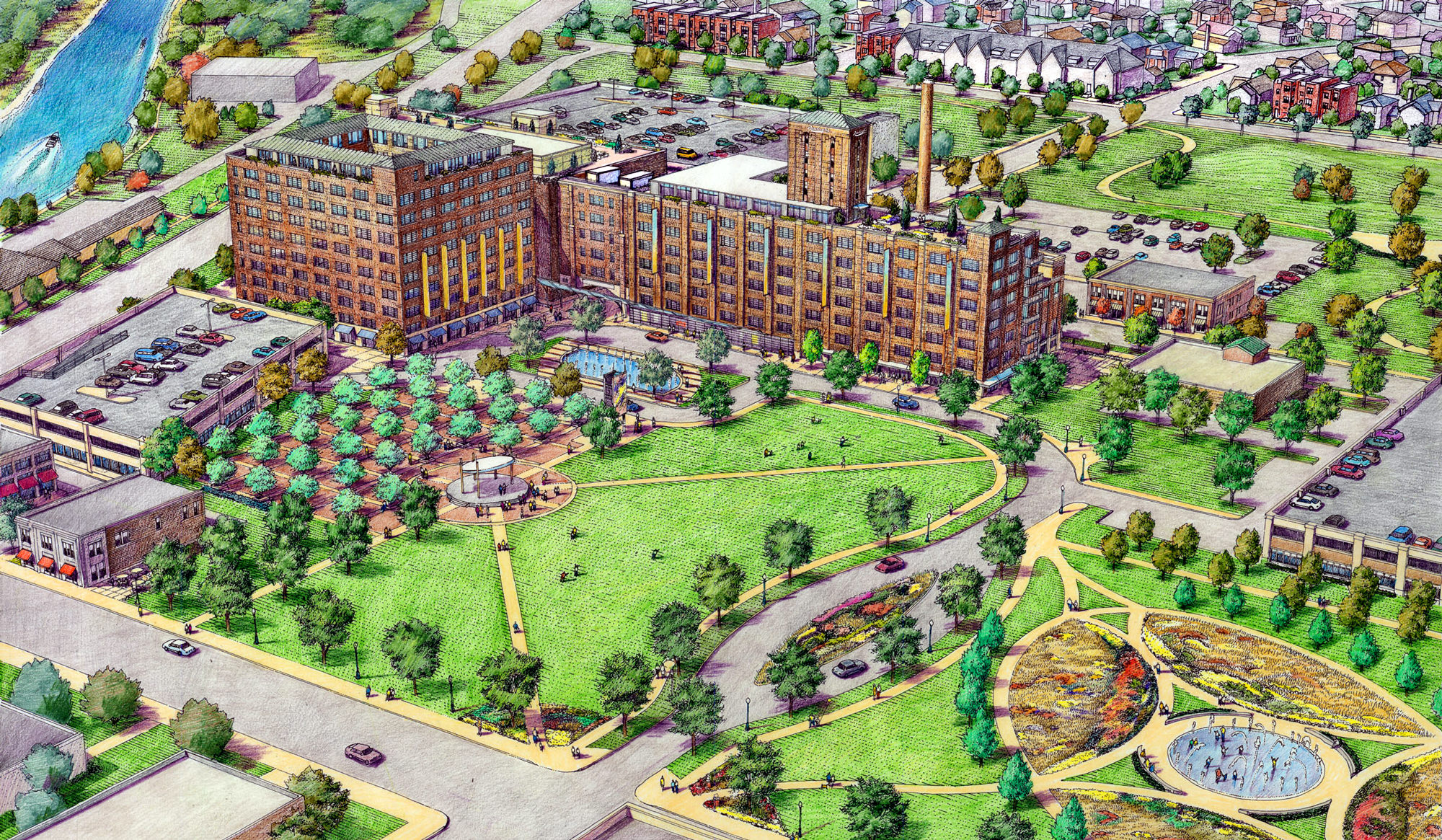 The Retown plan includes many features that would not only restore the glory of the W.T. Rawleigh building, but also provide economic development and amenities such as parks, playgrounds, and gardens for the community of Freeport.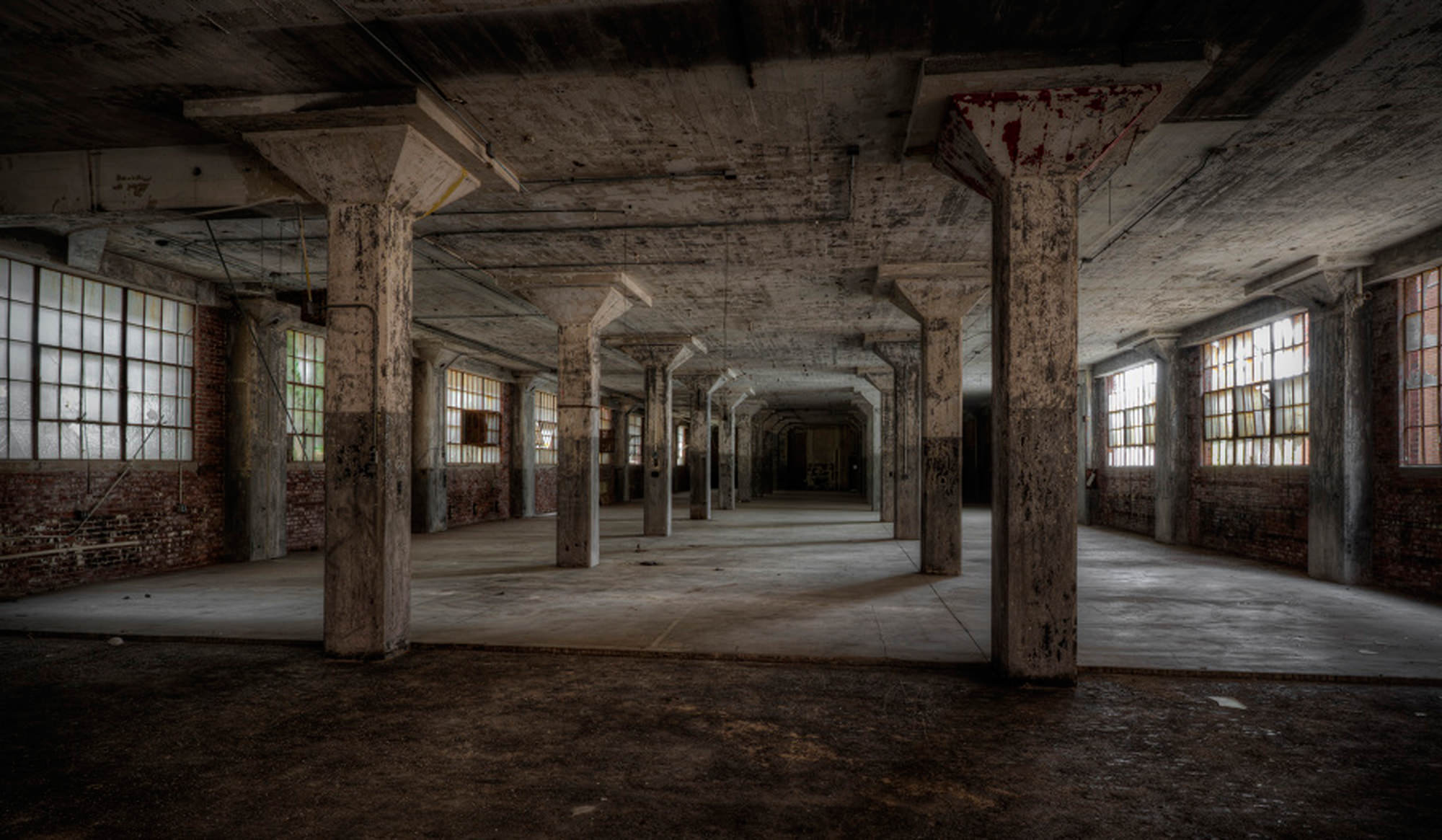 The historic Rawleigh building is just waiting to be restored to its former glory. Photo by Monk One.